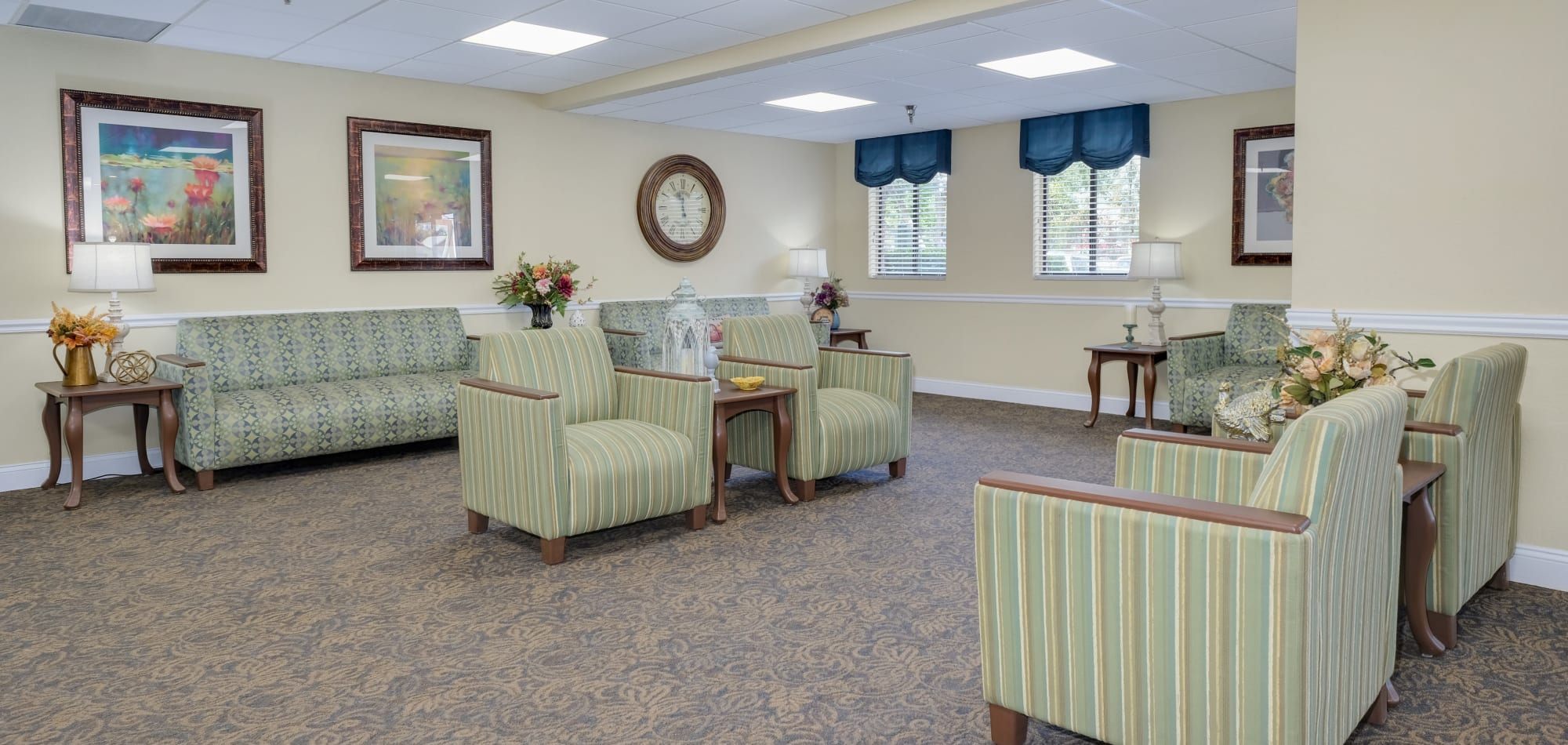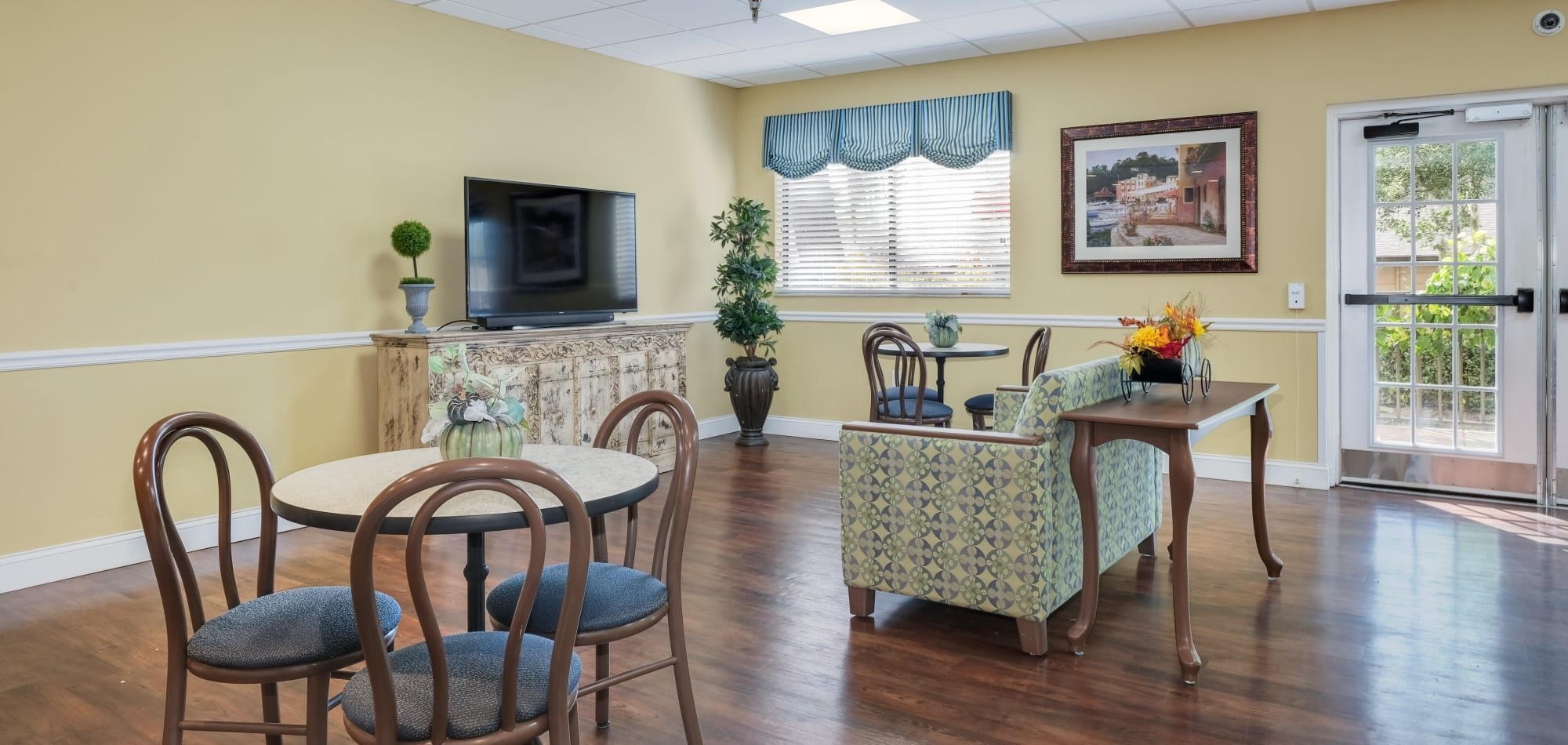 Welcome to Grand Villa of New Port Richey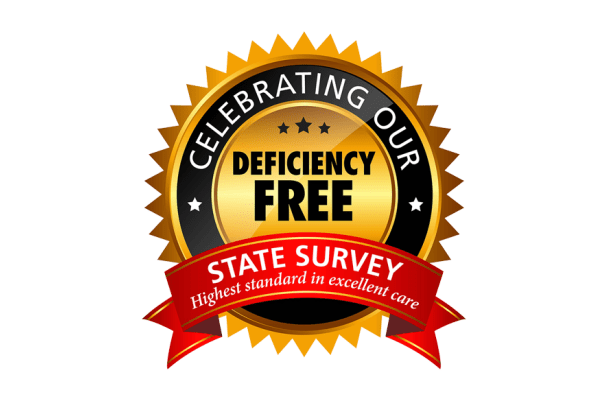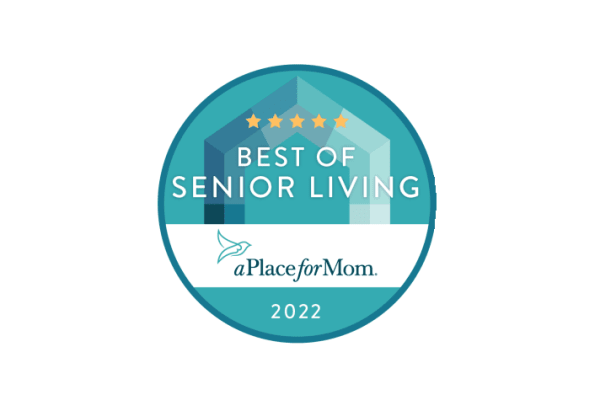 Learn how we're helping our residents stay healthy and together!
WELCOME TO
GRAND VILLA OF NEW PORT RICHEY
Welcome to Grand Villa of New Port Richey! Our lovely assisted living and memory care community in New Port Richey, Florida, is just north of Tarpon Springs in Pasco County. Grand Villa is a resort style community with fabulous features and amenities designed to help our residents enjoy life to the fullest!
The different levels of care that Grand Villa of New Port Richey offers, include Assisted Living, Memory Care, Respite Care and Senior Day Program. Our monthly rate covers social and recreational activities, delicious chef prepared meals, restaurant-style dining, housekeeping, apartment maintenance and so much more!
Grand Villa has a unique state of the art Resident Care Technology that provides peace of mind by helping to ensure that care is provided as needed. An added feature is the state of the art Medication Management, including medication ordering and delivery services by a preferred provider, which improves accuracy and timely medication delivery.
Every day is filled with fun at Grand Villa. Our full-time Activities Coordinator plans activities, parties, classes, lectures and excursions that are entertaining and engaging. Daily options include a variety of exercise classes and activities that promote flexibility and encourage independence. Grand Villa's friendly environment encourages residents to relax and enjoy life.
A Community
YOU CAN CALL HOME

Grand Villa blends a vibrant lifestyle with the comfort of knowing extra help and support is there when it's needed. Our residents lead active lives, enjoying their friends and neighbors, and the many social events and activities we offer. As you learn more about our community, you'll soon realize that what makes our community special is that we treat every resident as a respected member of our family. 
Our comfortable apartments range from studios to one bedroom apartments. Kitchenettes are available. All apartments are individually climate controlled with private bathrooms, equipped with safety features and are available as private or companion accommodations.
We offer a home, a community, and a family. Our goal is to provide an enriching experience for every resident. We are committed to integrity, reliability, and excellence. Please contact us today for more information about our community and senior assisted living options. Thank you for considering Grand Villa of New Port Richey. Call 727-848-0151 today to schedule your personal tour.
Help Our Hurricane Heroes
During Hurricane Ian, we have seen incredible heroism from our staff serving our senior residents in extremely adverse conditions. Our teams evacuated residents from communities in danger to sister communities in safer areas, working tirelessly to ensure every resident was safely transferred. They left their homes and stayed in the communities throughout the storm, making sure our residents continued to receive quality care and comfort.
Now, in the aftermath of one of the worst hurricanes to hit our state, many of our staff members are returning to homes that are completely destroyed. They are facing significant challenges as they try to recover from the devastation while continuing to care for our residents. Their sacrifices are truly remarkable.
In response, Grand Villa has launched a fundraiser to support our staff members displaced or affected by Hurricane Ian. We encourage you to help us acknowledge their efforts by supporting them in their time of need.
Learn about our visitation policy